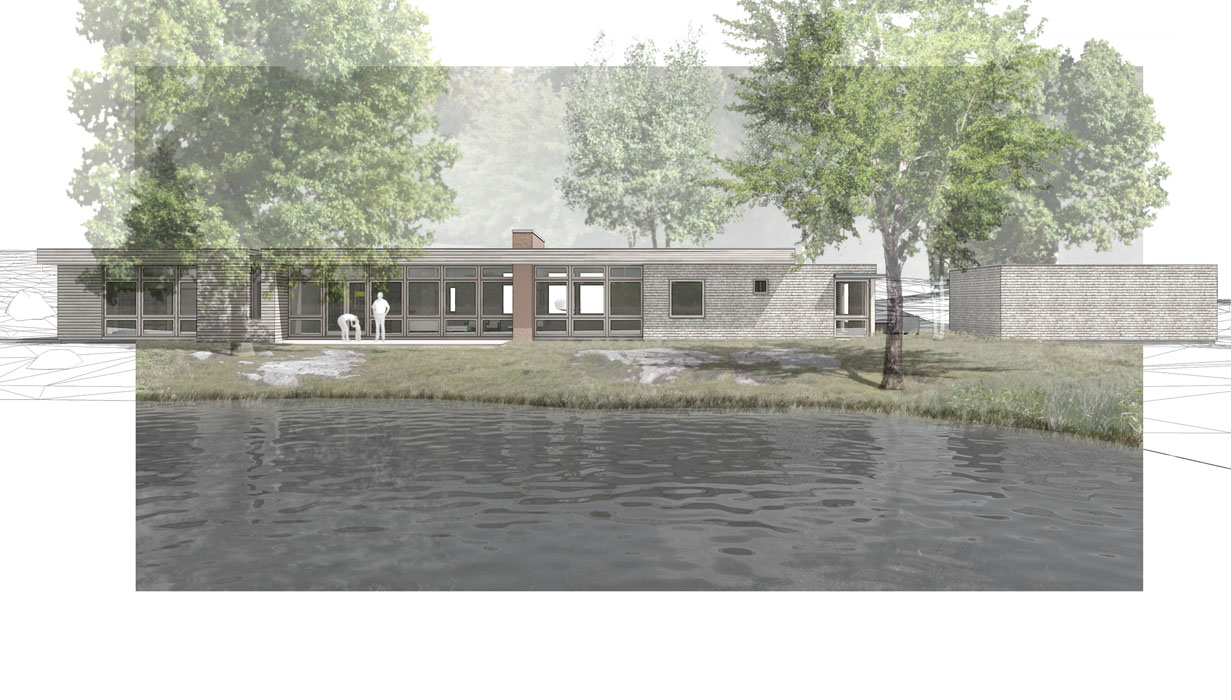 CHILMARK HOUSE
LOCATION  Chilmark, Martha's Vineyard
COMPLETED  (Unbuilt), 2013
ARCHITECT  Ruhl Walker Architects
From the first time we saw this beautiful site, a fern-covered clearing punctuated by smooth boulders on the north side of Martha's Vineyard, we knew it was critical that our design sensitively integrate both house and landscape.  The owners, a pair of long-time Vineyard residents, wanted a home that required minimal maintenance and would be extremely energy efficient, which would accommodate their active lifestyle and allow them to age in place.
Our solution was a long and low house that nestles into the existing topography right at grade.  The master bedroom and guest suites anchor a chain of connected living spaces, which flow uninterrupted and without steps through the house and into the surrounding landscape.  The approach to the house is by a wooded drive to a paver stone path along the building's visually quiet and relatively opaque north façade.  The intimate entry opens boldly to the living room and affords expansive views to a clearing and small pond through floor to ceiling windows which run across the south elevation of the house.  The kitchen is tucked behind the entry for easy access and a partial sense of remove from the more public rooms.  A generous southern overhang shades the interior during the summer but allows passive solar heating during the winter, and high and low operable windows on both sides of the house capitalize on the cooling afternoon breezes that blow across the pond.  Super-insulated walls and high-performance glazing reduce heat loss through the building envelope and an efficient heat pump and energy recovery ventilation system, powered by grid-connected solar panels on the roof are tuned to ensure the house operates at net-zero energy use.
Straight grain walnut cabinetry, stained quarter-sawn oak on the floor and ceiling along with unpainted plaster walls complement the simplicity of the natural surroundings.  Weathered cedar shingles and lap siding on the exterior acknowledge the island's history and blend discretely into the surrounding forest.  The building was sited to preserve prominent trees and rocks and careful construction sequencing will facilitate renaturalizing of the site after construction.